Award-Winning
Clock Repair Specialist
Philip D'Avanza has been in the clock repair business for over forty years. Since 1990, he has focused on tower clock repair in historic structures and is thoroughly familiar with the guidelines for rehabilitating historic buildings established by the Secretary of the Interior.
In the repair of historic timepieces, it is of the utmost importance to make the repair with the same skill and craftsmanship used when the mechanism was originally manufactured. Knowledge of manufacturing processes, metallurgy, strength of materials and heat treatment play an important role in the restoration and repair of quality timepieces.
Philip D'Avanza is a proud member of the American Watchmakers-Clockmakers Institute, The National Association of Watch and Clock Collectors and the New Hampshire Preservation Alliance.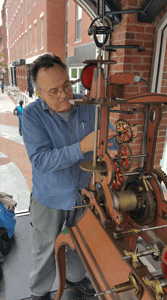 The background of Philip D'Avanza, specifically tool and die making, design and precision machining, gives him the ability to understand what makes these mechanisms "tick" and how they were made. Replacement parts are precision machined from raw castings or solid stock as required.
The rewind systems and bell actuators Philip manufactures are custom designed to work with your tower clock installation. He strives to retain your clock's original workmanship, address safety concerns and provide the best possible product to meet your needs. He offers computerized bell striking controllers which are programmable for hours of silence, adjust for daylight savings, power outages and leap year.
Philip utilizes African mahogany for his replacement wood dials and all exterior circular bezel molding. Gilded hands and numerals are finished in 23 karat gold leaf.